Help Content preferences
Help topics from remote servers can be included seamlessly into the local help system. Use the

Help > Content preference page to configure one or more remote server to include content from.
| Button | Description |
| --- | --- |
| Include help content from a remote infocenter | If checked, this option enables the use of remote help content. The rest of the fields on the page are only enabled if this option is checked. |
| Add/Edit/Delete | Add, edit or delete a remote data source |
| View Properties | View the properties for this remote data source |
| Test Connection | Tests to see if it is possible to connect to this host/port combination |
| Disable/Enable | Allows a data source to be disabled so the help system will not try to read topics from that source. |
Here is what the Help Content preferences page looks like: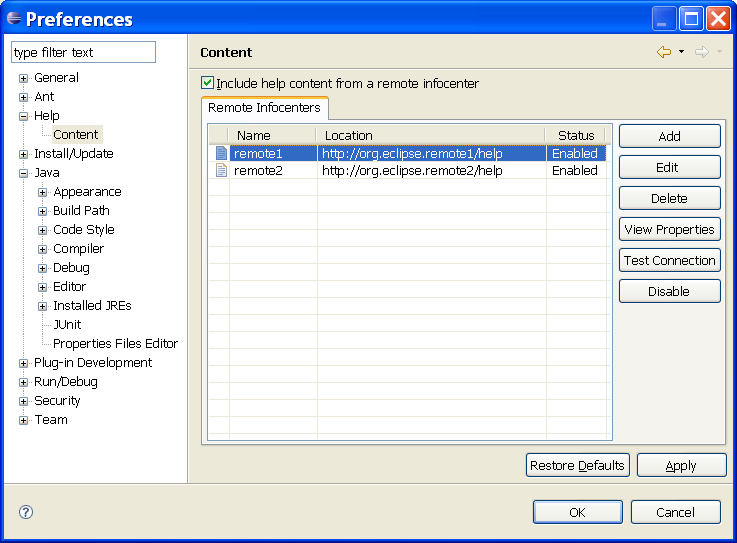 Pressing the "Add" button opens a dialog to add a new infocenter, these are the fields that can be entered in the Add new infocenter dialog.
| Option | Description |
| --- | --- |
| Name | A name for this infocenter |
| Host | Specifies the host name of the system that is running the infocenter to server remote help content. This must be a host name and cannot be a URL (i.e. it cannot start with "http://") |
| Path | Specifies the context root of the Infocenter application running on the host. |
| Port | If "Use default port" is selected, port 80 will be used to access remote content on the host. To use any other port the "Use port" option must be selected and the correct port must be specified in the text field. |